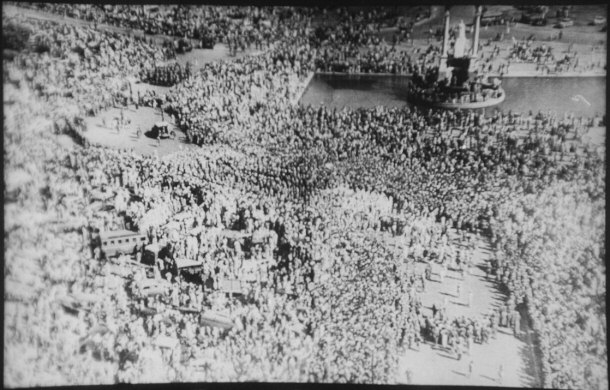 A file photo of funeral procession of Mahatma Gandhi.
Today, January 30, is observed as National Martyr's Day in India. This day is observed as a mark of respect for the leading figure of India's freedom struggle, Mohandas Karamchand Gandhi fondly known as Bapu or the Mahatma. On Martyr's Day, the President, the Vice President, the Prime Minister, the Defence Minister, and the three Service Chiefs gather at the Samadhi of Mahatma Gandhi at Rajghat and lay wreaths on the Samadhi decorated with multi-colour flowers. The armed forces personnel blow bugles sounding, 'The Last Post'. The inter-services contingent reverse arms as a mark of respect to the martyrs.
Mahatma Gandhi was assassinated by Nathuram Godse on January 30, 1948 during a morning prayer meeting held at Birla Bhavan in Delhi. The place where Gandhi fell is called Rajghat.
Sailen Chatterjee
, a veteran journalist, then working for the United Press of India (UPI) at its New Delhi office, was one of the first to report the incident. Chatterjee had accompanied Gandhi during the Noakhali riots of 1946 and had seen closely how Gandhi had managed to put an end to the violence. Chatterjee has lucidly described the events that took place on January 30 morning of 1948 as he was present at the prayer meeting. When he reported the news of Gandhi's assassination, no one in UPI believed him. Chatterjee has described the assassination of Gandhi as a 'dark night' in history of India. In one of the later published stories, he narrated how Sardar Vallabhbhai Patel and Jawaharlal Nehru stood side by side weeping and consoling each other. About Gandhi's cremation, Sailen observed, "A mass of humanity had crowded in Delhi on that occasion."
The assassin
Nathuram Godse, the assassin, was influenced by the ideology of the Hindu Mahasabha (HMS), was an organisation which had a different and extremist outlook towards the freedom struggle. The main goal of HMS was to establish India as a one religion nation state, based on the European idea of a nation state. This was at loggerheads with the idea of India as a multi-religious nation-state which the freedom struggle stood for. Social psychologist Ashis Nandy has identified the extreme behaviour of Godse to his growing up years. Godse was brought up as a girl. Nandy believes that this confusion about his sexuality led Godse to act in a manner that would reinforce his identity as
masculine.
Few countries in Africa and Asia, which gained freedom from their colonisers at the same time as India, have been able to maintain the momentum towards progress. Either ways, no one can deny the role of Gandhi in helping India achieve its dream of self-rule.
​